Mid-West Family Madison offers a professional, fully equipped space to record high-quality podcasts. With the guidance and support of experienced sound engineers, producers, voice talent, high-performance equipment, and comfortable soundproof studios, you can focus on delivering engaging content.
Podcasting has revolutionized the way we consume information and entertainment.
As an innovative medium that allows for convenient, on-demand audio content, Podcasts have gained immense popularity and continue to experience exponential growth.
YES! I want to do a Podcast!
Are you ready to tell the world about everything you're doing? Got questions and want to walk through what Mid-West Family Madison can do for you? Drop us a line, and we'll be in touch to take your podcast from dream to reality.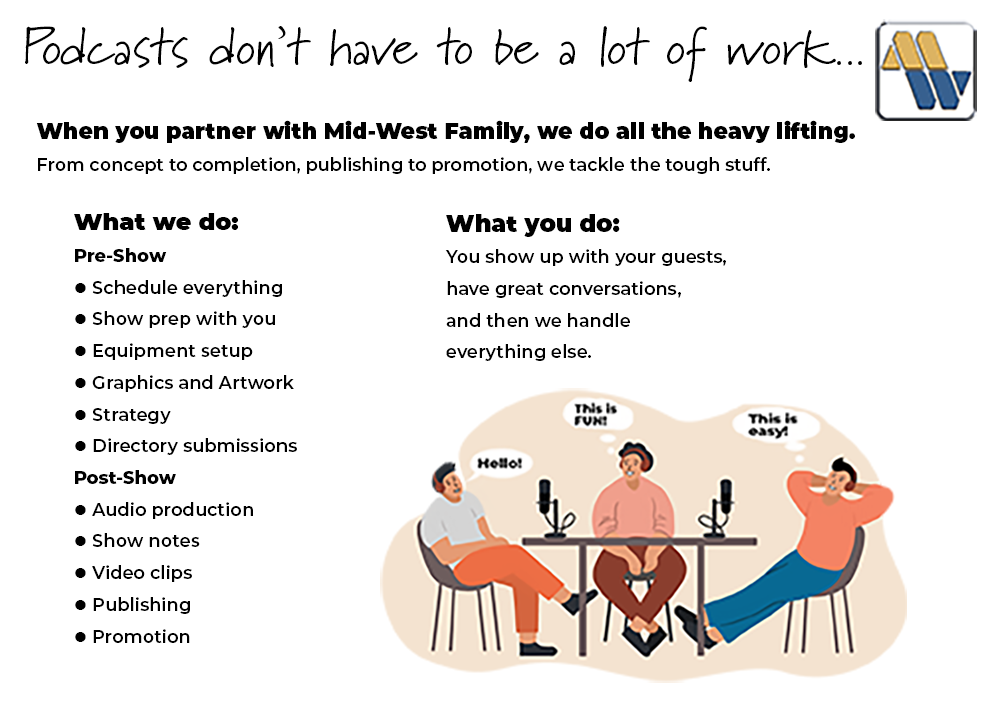 Got a Great Idea?
You have an idea, but perhaps you need help bringing it to life. That is where the Mid-West Family team comes in to craft a series to breathe life into your idea. We'll help you storyboard your idea into perfect consumable chunks to take your listeners on a journey of discovery.
Podcast Series Includes:
A series of episodes, each building upon the last to tell your story. Each podcast is up to 30 minutes in length.
You are the host and bring in your guest either in person or virtually. Ask for a quote if you'd like us to provide talent.
Three hours of standard editing and a producer for each episode
Podcast Graphics for each episode, including the Intro, Outro, Music license, and a 15-second Audio Teaser
Hosting on the Omny platform for a year. Additional years can be purchased upon renewal
ADD ONS

15-second audio gram for social media
10-second video for social media
An eight-episode series includes 15 promotional mentions per month on one station of your choice for 12 consecutive months.

Starting at $750 per episode plus a one-time set-up fee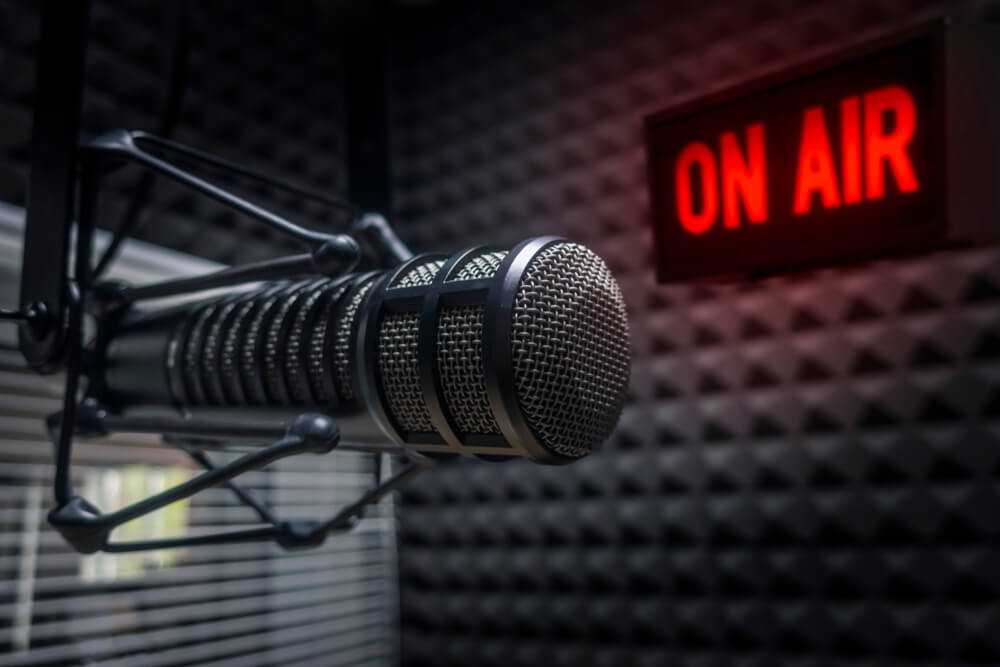 Studio Sessions
This option is for you if you're all ready to record your podcast and need a professional setting. No sitting around your kitchen table and then editing out the neighbor's barking dog!

We have a state-of-the-art studio with a terrific staff to ensure your podcast sounds professional! Our fully-equipped, professional audio and multi-camera podcast studio is set up with four microphones and multiple camera angles. It is clean and acoustically treated for flawless recording.

Every podcast is unique and can even vary from episode to episode. Need four people in the room with audio only? No problem! Need to add video locally? No problem! You'll work with our team to get everything you need prior to coming in to record your podcast.

How it Works
Upon arrival, our engineer will walk you through your requested setup. You'll come in 20 minutes ahead to walk through the setup to be ready to record. We do our best to accommodate your needs, so if you have some day-of changes, please let us know and allow for additional setup time.

Once you are ready to go, we hit record and leave you in privacy to record your podcast. You're in charge—we want you relaxed and ready to create amazing content. But if you need help, our engineers are on-site and right outside in the control room.



The Equipment—

We are fully equipped with the following equipment:

Three Marshall CV506 Cameras
One Black Magic ATEM Mini Extreme ISO Live Production Switcher
Four Electric-Voice RE20 Microphones
Four Electric-Voice 309A Microphone Arms
Audio Files—You'll get isolated recordings of each microphone, along with a stereo track of everything together. Choose how you want your files:

Bring a portable USB jump drive or
Portable hard drive (SSDs are recommended)
Studio Rental includes an Engineer, Tech Support, and full usage of the studio audio equipment and is $150 per hour, then $75.00 for each additional ½ hour.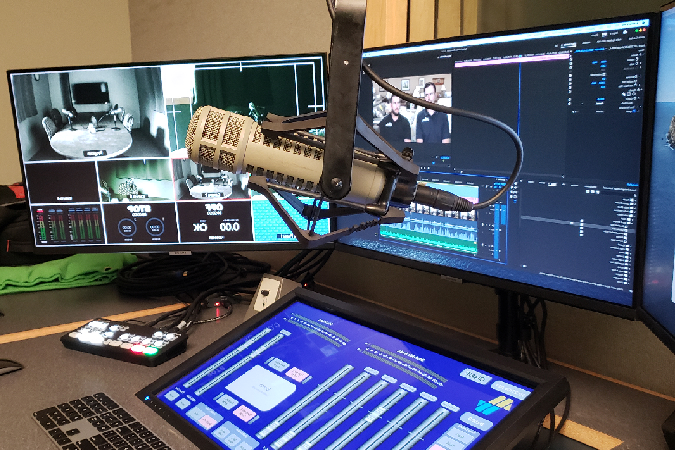 Get Marketing Insights and Information Delivered Right to Your Inbox!