Sports marketing is a powerful tool for businesses.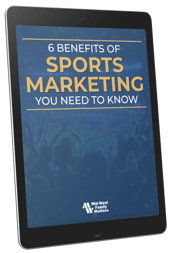 It allows you to reach a broad and engaged audience through sponsorship and advertising. When you align your brand with sports teams in your area, you align with local sports fans so devoted to their favorite athletes and teams they'll support brands associated with them!
Download this eBook to get a closer look at 6 of the major benefits to your business when you include sports marketing in your strategy.
Fill out the form to get your FREE copy today.